The Wolf Number + Wyldest + Lucille and The Seals
Norwich Arts Centre
05/11/18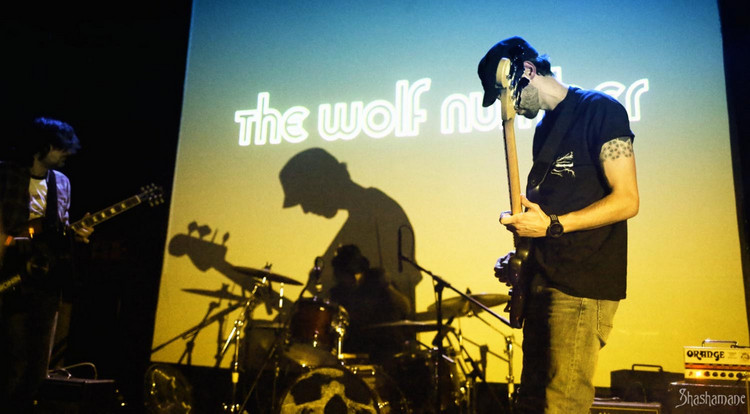 For the third time this week I am back at my favourite venue for another strong line-up at Norwich Arts Centre. This was the latest Odd Box Promotions night featuring three dreamily compatible acts: the excellent Lucille and the Seals playing their biggest Norwich gig thus far, London's Wyldest, and launching their new EP, The Wolf Number, a band our city should be mighty proud of.
Somewhat of a Norwich supergroup featuring a number of familiar faces all creating something quite beautiful and altogether different from what we may know them for through their other individual musical projects. It was wonderful to experience them on the NAC stage with luscious sound. I do pick up on the influences of Low and Mazzy Star but Lucille and the Seals have created their own sound and identity, it's dreamy and atmospheric with delicate moments and plenty of power when required too. Lizzy's (Lucille) vocals are joined by Sarah Tufts', with Joe Quinn on slide, Iain Lowery on keys, Johnny Crabb on bass and playing his last gig as a Norwich resident, Alex Elliot on drums. I hope his relocation won't affect the band's gig frequency too much though as I want to see this very interesting band again soon.
After a short break it was the turn of London trio Wyldest. Again, great sound from these talented and versatile musicians who, to my ears, have a strong 1980s feel and put me in mind of the likes of The Cocteau Twins, The Sundays, and at times even The Sugarcubes with that, strong bass sound and occasional Bjork-esque vocal moments. I wasn't familiar with this shoegazey band before and they got a good reaction from a well-attended NAC.
After enjoying some excellent krautrock in the bar from the likes of NEU! played on vinyl by DJ Ego Healer (aka George from Gladboy) it was time to head back into the hall for the evening's headliners. Following their widely acclaimed Bunker Sessions debut The Wolf Number released their second EP There's Nothing to Fear on local label Milkman Sounds Records earlier in the day and their gigs have rightly taken on a real sense of occasion with plenty of buzz about their shows meaning they are growing a devoted following. The NAC sound was outstanding and the beautiful visuals perfectly matched their big, cinematic soundscapes making it feel a bit like a powerful live score. This instrumental trio of Jack (guitar), Kev (drums) and Oz (bass) are incredibly tight and work in great harmony, each of them masters of their craft and fascinating to watch, especially with this superb lighting. One can hear the influence of Mogwai, the PSB-style use of sampling and perhaps even Pink Floyd in their spacious use of sound, and again they are creating their own strong identity.
Their gigs are really something to behold, they can replicate their songs in the live setting perfectly, with the added warmth, intimacy and atmosphere that a concert provides. The audience responds in kind and there's always a great energy and rapport at their shows, there's a lot of love for this band and it's clear to see why. They play quite brilliantly, the music is sublime and their characters come through. Audience and band feeding off each other's energies and this is one of my favourite things at gigs where there's a flow of energy back and forth from the stage to the floor and back again. It was palpable here.
The Wolf Number have, in a relatively short space of time, firmly established themselves as one of our very finest bands. They have a growing audience and reputation and continue to maintain the exceptionally high standard of not just their recordings but the gigs too. We're extremely lucky to have them and it struck me today that so many of my favourite gigs and bands are local ones. The Wolf Number are most definitely among them. Wider acclaim and recognition for them is surely just a matter of time.