UK Subs
The Waterfront
17/12/17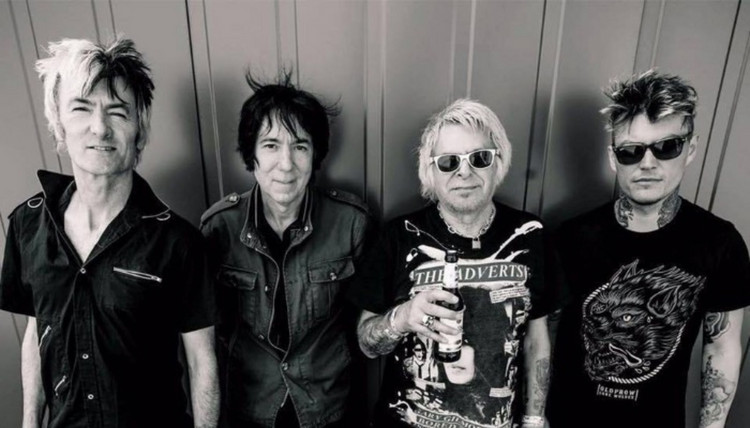 It is mid-December and time for UK Subs' annual visit to the Waterfront (knocked out of kilter this year by a show here in January). Clash tribute London Calling kick things off in some style with London Calling. I mean what else would do? It is the song and album the band is named after, after all. Say what you like about tribute bands - they're stealing stage time from new talent, it is just cabaret, it is just useless nostalgia blah, blah, blah, I know all the arguments, and I'd agree with them to a degree - London Calling put on a good show.
If I am honest, the band try hard to nail the look but don't quite pull it off. The sound is, however, spot on. I never got the chance to see The Clash but my mate did and he says that London Calling, over the course of twenty odd songs and 80 minutes, are far tighter and together than Messrs Strummer, Jones, Simonon or Chimes ever were. This may be the closest I will ever get to seeing The Clash and it would be churlish not to enjoy the likes of Tommy Gun, London's Burning, Police and Thieves, I Fought The Law, Should I Stay..., White Man In Hammersmith Palais or White Riot. I don't normally go for tributes, except The Ramonas and The Sex Pistols Experience. London Calling have been added to that list.
Now for UK Subs. Oh deary, deary, deary me, what has gone wrong with the ever-reliable Subs? Now, subtlety isn't something you can really accuse these boys of but this is just a bludgeoning assault to the senses. It is like touring with Discharge earlier in the year has rubbed off on them just a touch too much. Even the runs of brilliant bassist Alvin Gibbs are reduced to a fuzzy blur. Or so I am thinking. When I look around, everyone else is enjoying as much as ever and it is one of the most frenetic pits I have seen in this venue but I am just not getting it. Ah, but then it all changes, something clicks into place. Maybe it is the band, maybe it is the sound or, more likely it is just something in my brain. The band tears into Rockers and it all makes sense. If loud, fast, snotty punk rock 'n' roll is your thing, then UK Subs should be your band.
Charlie Harper may be in his seventies but he still rocks like a bastard. In all the times I have seen the Subs - and it has been a few - I don't think I have ever seen Harper enjoy himself so much on stage. Stage right, the aforementioned Gibbs - one of my all time top 10 bassists - is pulling shapes and, once things have clicked, playing with his usual brilliance. Newish guitarist Steve Straughan is looking more at home with every gig I see him play. At the back, drummer Jamie Oliver (no, not the celebrity chef-turned-turkey twizzler botherer) is immense.
Yes, it takes a few songs for things to get going for me, if for no one else, but this turns into another formidable set from a mighty band, Twenty or so songs in under an hour, including the likes of Another Cuba, Warhead, Stranglehold, CID, I Live In A Car and New York State Police and I leave a happy boy. Roll on next year, roll on the next UK Subs trip to Norwich and long live Charlie Harper!