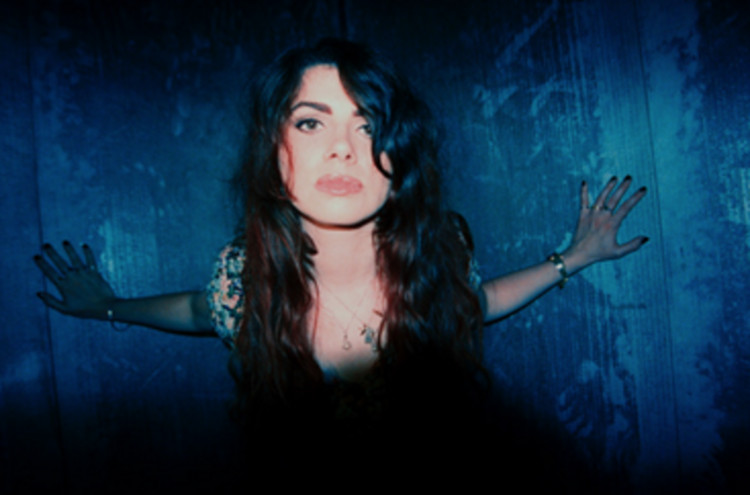 Holocene
Saturday, April 16th 2022
I'm very good, thank you! I'm rushing with the adrenaline of the last five days of the Skunk Anansie tour and we just did Bristol yesterday.
Read full Article >
---
---
The Dualers
Wednesday, September 29th 2021
Gold & Youth
Wednesday, September 29th 2021
Erol Alkan
Friday, August 20th 2021
Olivia Dean
Saturday, July 31st 2021
Declan McKenna
Saturday, July 31st 2021
One of the brightest stars in the UK indie scene
$ebbuku
Saturday, July 31st 2021
Is he the biggest rising star on the Norfolk music scene right now?
Showhawk duo
Saturday, July 31st 2021
Outline's Frances Butler Caught up with The Showhawk Duo ahead of their gig at EPIC on September 26th 2021. 
When Rivers Meet
Wednesday, June 30th 2021
Squid
Saturday, May 29th 2021
'It was a happy accident': Ollie Judge of Squid on touring, covid-19 and his creative process.
Ida Mae
Saturday, May 29th 2021
We caught up with Ida Mae ahead of their Red Rooster appearance, but they are clearly in demand across the UK and USA
Alden and Patterson
Saturday, May 29th 2021
Norwich based folk duo Christina Alden and Alex Patterson have been busy during lockdown.
Leo Lore
Saturday, March 20th 2021
$ebbuku
Friday, February 5th 2021
Outline's Best Of 2020
Tuesday, November 24th 2020
Katie Melua
Tuesday, October 13th 2020
So we caught up with Katie ahead of the release of Album No. 8
NAC Reopening With Micro Performance Festival
Wednesday, October 7th 2020
We were so pleased to hear about the reopening of Norwich Arts Centre (NAC), as I am sure many of you were. We had a word with Kelly of NAC to find out more >>>
Wild Paths Festival and Local Music Venues Crowd Funder
Tuesday, July 28th 2020
DMA'S
Saturday, July 11th 2020
Callum Ritchie caught up Tommy O'Dell from DMA's about their third studio album 'The Glow', sonic shifts and philosophies
The Libertines - Gary Powell
Thursday, May 28th 2020
A couple of months ago, I caught up with Gary Powell of the Libertines.
Save Our Venues Campaign
Wednesday, May 6th 2020
HOMESKOOL BEATBOX ADVENTURES
Sunday, May 3rd 2020
Homeskool with a difference
Martin Gordon Interview
Saturday, April 25th 2020
In 2009, he was described by Classic Rock magazine as being "like Brian Eno fronting 10cc at a cleverness convention". He has just released a new album 'OMG' and quite remarkably it's his ninth to date,
Maya Law
Wednesday, April 8th 2020
We caught up with Maya ahead of her new single release on April 10th, and later in the year look out for her EP launch
Dingus Khan
Wednesday, February 26th 2020
Ahead of their gig in a few days time, 29th Feb at Voodoo Daddy's we caught up with Dingus Khan
Gary Davies
Thursday, February 13th 2020
Can you highlight any records in particular that you love or are a staple for playing live? Such a difficult question but my favourite artists from the 80's would include U2, Tears for Fears, Deacon Blue, Bruce Springsteen -
The Levellers
Sunday, February 2nd 2020
Jon caught up with Jeremy Cunningham bass player of The Levellers ahead of their gig at Nick Rayns UEA on 20th March
Black Midi
Sunday, February 2nd 2020
Black Midi appeared in what lots of publications like to consider a puff of smoke. In late 2018 and early 2019 murmurings of them could be heard throughout the music scene and a month after their debut album released they were nominated for the Mercury Music Prize. Ahead of their intimate show at the Norwich Arts Centre we had a chat to Geordie, the lead singer of the band.
King Nun
Monday, December 2nd 2019
King Nun really broke out in 2018, but with their latest album 'Mass' they've matured and really hit their stride. Label mates with the 1975, Japanese House and Wolf Alice, they're in good company to get some serious traction. In October they played the LCR supporting the Struts, but as they'll be back in the new year we decided to catch-up with them before they return.
The Neutrinos & Birds of Hell
Sunday, December 1st 2019
Dave Pearce Takes his 90's Dance Anthems to Norwich
Monday, November 25th 2019
Kate Tempest
Saturday, October 5th 2019
We found out more from Kate Tempest ahead of her gig at Nick Rayns LCR on Friday 8th November
Snapped Ankles
Saturday, October 5th 2019
After their critically acclaimed debut album, Snapped Ankles are back touring their brilliantly outlandish second LP....
Hot Chip
Saturday, October 5th 2019
We spoke to Owen of Hot Chip, ahead of their Norwich gig on October 24that Nick Rayns LCR, UEA
Night Café
Tuesday, July 30th 2019
Liverpudlian indie-rock four-piece The Night Café are due to release their anticipated debut album in late August
Gengahr
Monday, July 29th 2019
Franc Moody
Monday, July 29th 2019