Big Fish Little Fish Family Rave
Chapelfield Gardens
01/08/17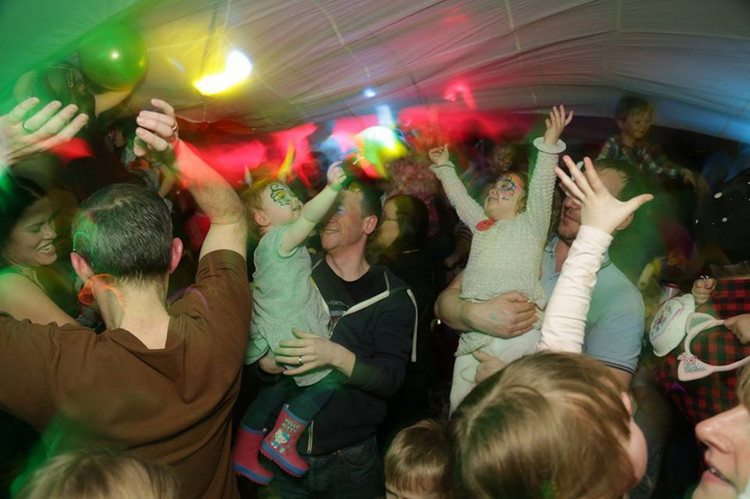 Ah. Babies and raving. Babeing. Rabies. Hmmm.
Not two elements that have traditionally gone hand in hand, what with the drugs and the late nights and the hands in the air and the giving in to primal urges...oh, wait. Maybe they're closer than I thought.
In any case, the chance to whomp it up with one of my best friends, her husband and young family in a big top in Chapelfield Gardens on a Sunday afternoon cannot be refused. There's a licensed bar next to the buggy park. Ideal. Handed glowsticks upon entry, the tent is hot and packed with happy, dancing family units of all kinds. There are bald dads throwing shapes with toddlers on their shoulders, and mums in gold leggings cradling babes in arms. There's one young chap (maybe seven) wearing a bucket hat with ACIIIEEEEDDD patches on it. Onstage are DJ's (2Bad Mice and DJ Trax from Moving Shadows Records) playing upbeat and proper rave tunes at a reasonable volume so there are no eardrum explosion issues, and it still feels pretty damn loud, in a good way.
The little dancers can get their faces painted, crawl in and out of Wendy houses (are they still called that?) and craft paper crowns as well as cutting a rug on the dance floor to their heart's content - there's plenty of space for windmilling and everything. There are coloured lights, and ceiling projections, confetti cannons, a bubble machine and balloons of all shapes and sizes, from wiggly to huge.
This is a delightful event, and very 'Norwich', with everyone having a lovely, gently family time but also surrounded by fond, and probably deliciously vague memories of past nights in fields 20 years ago. I had a ball dancing with my 2 year old and 3 month old friends. It was great fun for all the parents and carers who just don't get to go out and dance anymore, as well as an introduction to letting loose to the beat for the kids. It took a full hour for the kids I was with to get tired and bored, whereupon we took the party outside, where a brass band were playing what old people call Pop Hits on the Chapelfield Bandstand, and brushed the grass with a branch for a while. Good times.
My only two small recommendations for next time, Big Fish Little Fish (and let's hope there is a next time), are that it would have been great to have someone on the mic to whoop the crowd up a little, and also we could have done with a few more recognisable rave classics - or perhaps that's just my lack of rave education showing. In any case, it was bloody brilliant, and you should all come along next time.
Follow Big Fish Little Fish on Facebook