KlangHaus: Four Storeys
St George's Works
21/12/16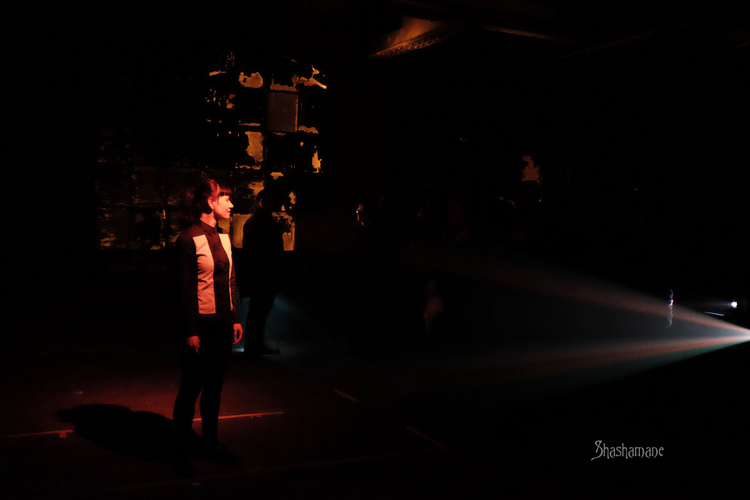 Every time I see The Neutrinos they never fail to blow me away, ever-evolving and creative whilst also challenging and stimulating the senses of sight and sound. Produced and presented by Norwich Arts Centre, The Neutrinos' collaboration with artist Sal Pittman for KlangHaus: Four Storeys continued that legacy and raised the bar. I feel I have not only been at a show but inside it, and in some way I also feel like I've been in a film or a dream ... perhaps someone else's nightmare. That last part might not sound like a good thing but trust me, in this case it most certainly is. This show (it challenges every idea and notion of a "gig" and what that involves so it doesn't feel right to call it a gig) is very special indeed.
The Neutrinos have had KlangHaus residencies at the Edinburgh Fringe, The Royal Festival Hall, and even a Colchester bus depot, all sellouts with glowing reviews. Now it was the turn of their home city. I was at the first of the seven sold out performances for the 6:30pm show. It was a cold night in Norwich but I followed the signs for KlangHaus and arrived early. Waiting outside with refreshments from the Bicycle Shop's Horse Box pop-up Klang Bar as more and more people gathered, we felt like a select group in on a secret. Already bonded in this way it was feeling special before we even entered the building. Housed, or haused, at the derelict St.George's Works, a former furniture depository with remnants of this part of its history scattered around, the performance took in four floors and many rooms and nooks and crannies. The use of the space as well as its acoustics was just extraordinary.
Without wishing to give too much away we were led from room to room, floor to floor, with sounds all around us. The lighting was minimal but cast fantastic shadows, while the music was uncompromising, hard, soft, loud, quiet, haunting, beautiful and terrifying. Some moments were genuinely unsettling and dark, others I could not help feeling were ghostly, as if we were walking through memories imprinted on the building itself which was an integral part of the performance and telling its own story too. Parts of it were nightmarish, some felt oddly and deeply personal as if glimpsing moments of someone's dreams or memories and I almost felt I was intruding upon them. Sometimes the performers mingled among us as they sang and played - it was so cold we could even see Karen's breath which only added to the ghostly ambiance. At times they seemed imprisoned in rooms. Separate rooms. Ghosts and toys fighting to come to life and trapped souls desperate to be heard. I sensed a feeling of dimensions and times overlapping, these things happening because we were all there. The whole thing was incredibly creative and inventive, culminating in the band finally all in the same space but with the audience invited ever closer, there was no stage and no boundaries between performers and audience as the tension evaporated giving way to freedom and unity in an explosion of glorious noise.
There is so much more and although the temptation to excitedly describe the whole thing more fully is most certainly there not only would that not be possible as so much of it is sensory but I think it's an experience best enjoyed without preconceptions or expectations. Plus I would not wish to spoil any surprise. Just go, if you can, and feel it. I've not seen all of their legendary shows over the years, alas, but I think for me personally this is the best one yet that I have been to and I actually envy those who have still to experience KlangHaus.
Big thanks to The Neutrinos, Sal Pittman, NAC and the team of great people behind this project who at the tail end of the year have put on one of its absolute highlights. Creative, artistic, inventive, immersive, exciting, often disorientating but ultimately actually rather moving and celebratory too. It has made a big impression on me and I'll be digesting this one for days. Four Storeys, four stories, surprises and overall an utterly unforgettable experience. KlangHaus is inside my head for some time yet.
Review
Klanghaus
Four Storeys
St Georges Works