Let's Rock Norwich 2017
Earlham Park
13/12/18
On Saturday, along with 15,000 others, I took myself back to the 80s. Maybe not the 80s of my own youth, as I wasn't really a fan of any of the acts performing back then, but for one day I was happy to wrap myself up in the cloak of nostalgia. The weather was brilliant, the event appeared to be well run with friendly staff, and there was quick service at the bars along with the usual choice of festival food. All that was needed was for the artists to deliver the entertainment.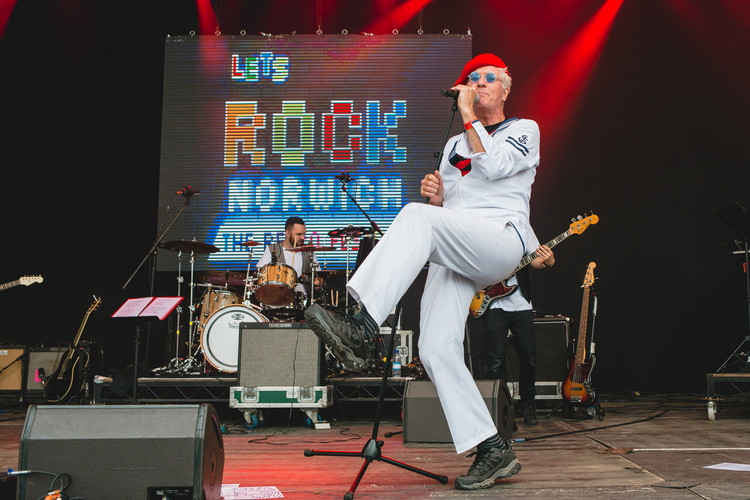 First up was Chesney Hawkes, one of the ultimate one hit wonders. Thing is Chesney knows his place in the pecking order, he was happy to take the mickey out of himself, he padded his set out with covers and his second 'hit' (which reached number 27!) and he finished with The One & Only which achieved its purpose of getting everyone singing along. Minutes later Captain Sensible arrived to play the day's most surreal set. I'm more used to seeing him playing incendiary guitar with the Damned, but he ran through his solo hits, was obviously having a really good time and Glad It's All Over was one of the early highlights. I couldn't remember Jaki Graham at all, but I immediately recognised songs like Set Me Free, and she certainly still had a great voice and was totally at home on stage. Belinda Carlisle was next on and it felt like we were witnessing pop royalty for the first time that day. The crowd loved her, she seemed to love us and if anything I'm surprised she wasn't higher up the bill as she has more hits than she could fit into her 30 minute slot.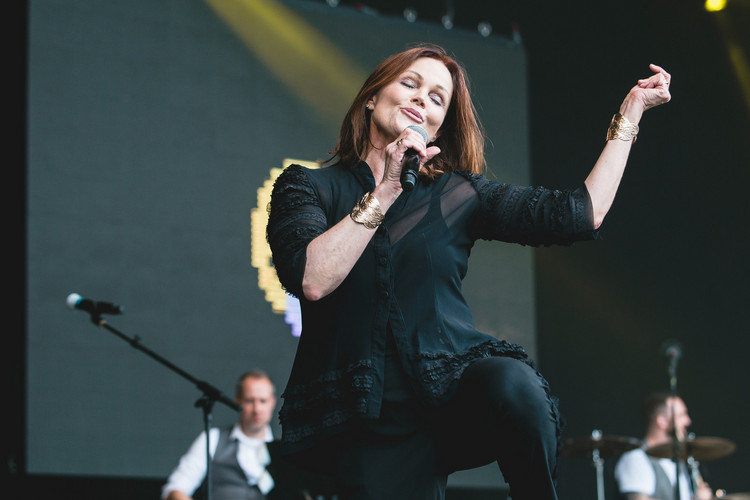 Up until this point all the artists had played with the house band backing them, with just a very short gap between each performer. This had worked really well as by now everybody was into the vibe of the day without long gaps to endure with the one stage set up. From here on out the house band were done with, we were entertained by none other than Pat Sharp and Dave Benson Philips between bands, and after 25 minutes it was time for Boney M. Featuring someone who once met an original member of the band, they were the most cabaret act of the day by far, but still had us all throwing shapes to Daddy Cool. Nik Kershaw, despite being forced to leave the stage for a short while due to technical problems, handled it like a pro and served up the most musically accomplished act of the day so far – his band were good, he showed his class on the guitar and it was easy to see why he was such a big star in the 80s. Go West were a band that didn't register on my radar at all, but of course I knew We Close Our Eyes & King Of Wishful Thinking. The crowd really loved them, the best reaction up to this point, and I found myself being pleasantly impressed by them.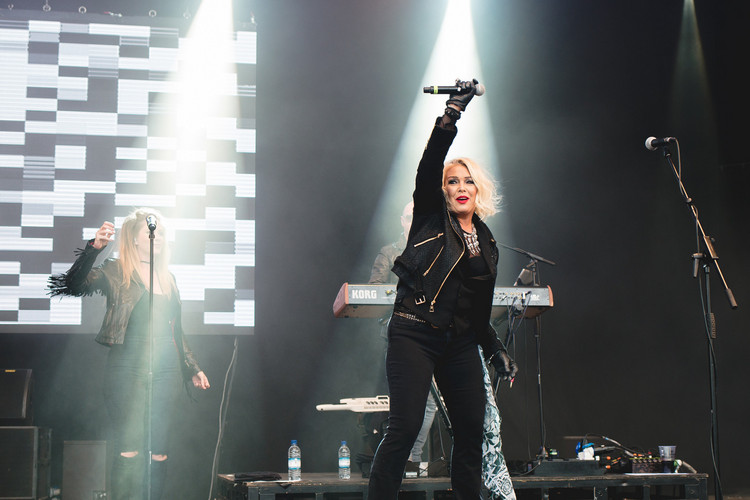 Midge Ure had a slightly longer time to showcase his talent and made full use of it, delivering probably my favourite set of the festival. The man is a genuine legend and a great musician with a voice as strong as ever – Fade To Grey, Hymn & Dancing With Tears In My Eyes all sounded fantastic, and a colossal rendition of Vienna was the best song I heard all day. Bring back the 'tache Midge! A tough act for Kim Wilde to follow then, but there was a lot of love in the house for her. I was instantly transported back to 1981 when she began with Chequered Love, and her band were the most rock 'n roll of the day. It was great to see her on stage doing what she does best, and although adding two covers to her 45 minute slot doesn't reflect on her own material too well, Kids In America was another highlight.
Although it was one of the day's most interesting performances, with excellent use of the screens, proceedings did feel slightly flat while Howard Jones performed. Even though he had two drummers and two keyboards he seemed slightly ill at ease on stage and it was the first time during the day when I sensed people around me had lost interest somewhat. A shame really, because the music he played reminded us all that he crafted some of the most interesting pop songs of the era – New Song & Like To Get To Know You Well having aged particularly well. As darkness started to fall Bananarama came onstage to rapturous applause and absolutely smashed it. If you'd have asked me before if I was a fan I'd have said no, but it turns out I love them! I knew every track, sang along to every chorus and in terms of atmosphere and crowd reaction no-one did better.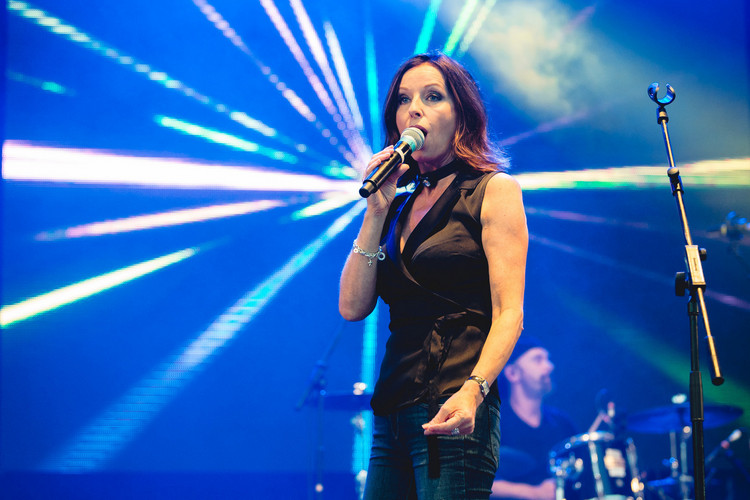 Headliner Tony Hadley can lay claim to having sung on some of the 80s biggest songs. Gary Kemp may have written them all, but Hadley sung them and sure enough he delivered a masterclass with To Cut A Long Story Short, Through The Barricades, Gold & True. Of less interest to me were his covers - for someone who's voiced so many iconic songs I'd rather not have heard him singing U2 or David Bowie material. Still, he reminded us that this is his bread and butter and he was a natural on stage, his voice as strong as it always was, and it was good to see him properly getting into it with his band.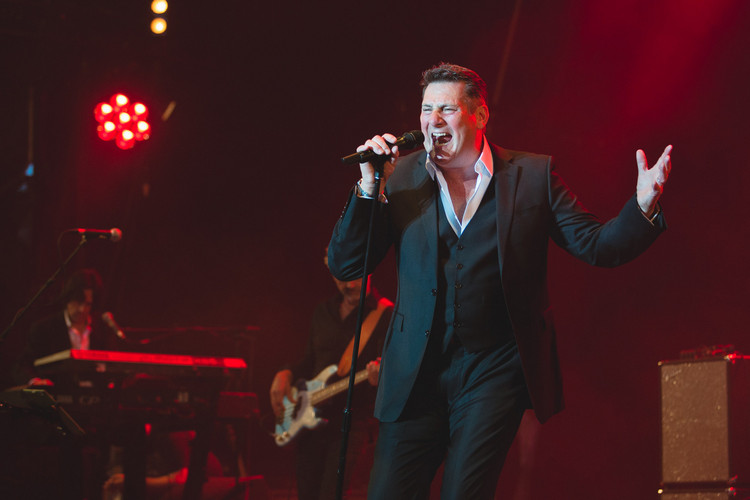 So that was my first experience of a retro festival and I thoroughly enjoyed the whole day. All of the acts contributed, there were moments of genuine brilliance and heaps of mindless fun. Everybody, whether dressed up in their 80s gear or not came with the intention of celebrating their youth and did so in style. It's easy to be cynical about events like this, but equally it's hard not to join in with everyone else and celebrate the music. Plans are already in place for it to return next year and I have a funny feeling that I'll be there.
Photos by Lee Harper