St Andrews Brew House
31/05/20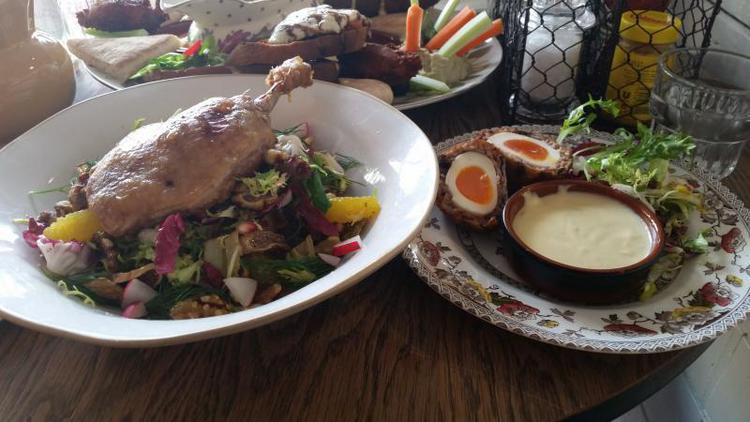 The Gen
You'd be forgiven for forgetting that St Andrews Brewhouse only opened last year. It has the feel of an established institution and a confidence in its own work. Home to a pub, restaurant and microbrewery there's plenty to draw you here and upon entering we are overwhelmed with the selection of craft beers and real ales available. Many varieties brewed on site and many more from other local breweries, this has to be a place for any beer enthusiast to try. Sadly, after some time, I had to pull myself away as their amber dizzy juice wasn't solely why I was there. Slurring my words and using a series of hand signals I was able to communicate to the waiting staff that I was here to try some food.
The Atmosphere
Wilfully distressed; not a description of the staff dealing with a sauced reviewer but of the decoration in the dining area with aged wooden cabinets and partially exposed brickwork behind rough plaster. A look that suggests the building could fall over at any moment, but probably won't. Probably. It's ok, it's safe, it's an aesthetic choice that is gilded with an abundance of copper piping, brass light fittings and lightbulbs with elaborate filaments. I'm a fan of an interesting lightbulb filament. It's certainly on trend and my passions here are amply catered for (with hobbies like mine the evenings just fly by…). The prominent corner position allows for two huge walls of glass (windows I believe they're called) that let light stream in and makes the copper gleam. For a late Sunday lunch the place had a nice buzz to it, drinkers in the bar enjoying a light bite and plenty coming and going from the fashionable dining area.
The Main Event
The menu has a nice variety to it; British Tapas offers smaller bites to mix and match or enjoy with a pint at the bar. They include the standard staples (olives, breads and dips, bruschetta) and the more exciting (courgette & sweet potato fritters and vodka & beetroot gravlax rolls). For more sustaining fare there are meals 'from the stove', sharing platters and roasts on a Sunday. As with the décor, the tone for the menu is still very definitely with one eye on current fashion drawing in culinary inspiration from far and wide, while still using local produce.
As a main I went for their confit duck leg salad. The slow cooking of the confit bird makes for a tender morsel that fell from the bone. The flavourful crisp skin and fat makes for a lovely mouthful. Duck would usually be served with a rich sauce, perhaps a red wine or a sticky sweet orange. The absence of either is a welcome change that makes this an altogether cleaner dish for the palate. Sweetness can still be found to compliment the meat in the orange segments, pomegranate seeds and the sticky figs nestled among the leaves. The walnuts in the salad add an earthy tannin note to finish this off but the radishes felt a bit unnecessary and were largely ignored.
The St Andrews board is a vegetarian platter, large enough to share as a snack between two or eaten as a main meal for one. Like the décor the dish drew on fashionable trends in food and a variety of influences. As a plate to share it's a great mix of olives, crudités, sauces, breads, hummus and dips and a beautiful array of colours and textures. As a main meal for one it perhaps requires some further curation, the individual items were delicious but perhaps at times a little homogenous. The courgette & sweet potato fritters were a real delight for me, chubby little morsels of flavour, a crisp bite through to a soft gooey and spicy centre. However, plated next to a whole baked sweet potato felt a little bit of overkill. The pearl barley & vegetable broth too was lovely and served in a vintage gravy boat. If any of this started to feel a bit too raw or healthy, a pinch of their homemade dukkha spice was enough to add excitement.
Overall
The place looks good and has the substance to back it. There is a lot going on with the beautiful décor, an interesting menu and their own microbrewery. Tours and lessons are available for the aspiring brewer but I was more than happy to leave that to the experts; once they've finished is when I step in. If you're a beer lover or a food lover there should be something here to draw you in and I'm certain you'll enjoy your visit.
Venue – 8
Fodder – 7.5 
Value – 7.5 
Overall – 7.5