The Divine Comedy
OPEN
22/10/16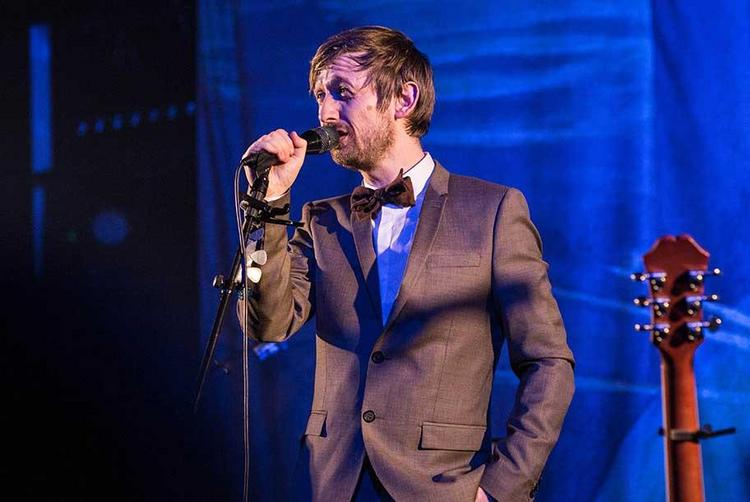 Within minutes of joining the queue outside Norwich Open I realise that I am in the minority here tonight. I mean, I have always respected Neil Hannon, and have followed his career with albeit passive curiosity ever since Something For The Weekend first mused the contents of that wood shed back in 1996. I enjoyed the latest album, Foreverland, and thought that he absolutely nailed it when he sang This Is Not America during the David Bowie Prom earlier this year. But I had never managed to catch him live. Yet the excited chatter around me tonight is not one of 'have you seen The Divine Comedy before?' but much more one of 'how many times?' I am clearly in the company tonight of 'superfans' of an act that have accumulated a dedicated and loyal following over these past 27 years.

There is a bit of a scrummage for the best of the unreserved seating as doors open, then a forty five minute wait for Cavan singer/songwriter Lisa O'Neill to take the stage. She consequently begins her set to an almost full Banking Hall, with most seats already occupied. She is a petite figure with an idiosyncratic voice - at the lower end it almost reminds of Jeff Buckley, but at the other extreme it resembles a sedated Wee Jimmy Krankie. However, she rapidly wins us over with her warmth and dry wit, and after opening with a cover of Ol' Man River she abruptly changes direction with the quirky homage Elvis I Give You Irish Stew. Pothole In The Sky is the title track from her new album – a celestial ponderer inspired by a revelatory moment during a real-life parachute jump. By now I am really tuned in to her voice. She concludes with the title track from her second album, Same Cloth Or Not, but her uniqueness has already won this Norwich audience over tonight.

Neil Hannon is accompanied on this tour by a six piece band, with whom he performs as The Divine Comedy. Impeccably dressed in grey suit and tie, he kicks off with Down In The Street Below and Assume The Perpendicular, not from the new album but from its predecessor six years earlier. After Bad Ambassador he dons bowler hat and brolly and returns to Bang Goes The Knighthood to perform the title track, then reprises the pithy irony of The Complete Banker, made even more complete by being performed in a magnificent former banking hall.

Generation Sex may still be only six songs into the set but some of the audience already have itchy feet and are dancing in the aisles. A lone voice shouts out for the rest of us to stand up for the remainder of the show, but Hannon promises that time will come later. Indeed, it will become compulsory, he vows.

After a cover of the original version of Alfie (the one that Cilla sang) Hannon does a quick costume change and re-appears as Napoleon for the next section of the show, starting with Sweden. Only then are we treated to our first tracks from Foreverland, How Can You Leave Me On My Own and To The Rescue. One of my personal favourites, A Lady of A Certain Age (from 2006's Victory For The Comic Muse), follows and then it is back to Foreverland for the jaunty single Catherine The Great. Lisa O'Neill is welcomed back on stage to duet in Funny Peculiar, a quirky music-hall love song much in the style of Noel Coward.

Finally, the restless and enthusiastic members of the audience receive the cue to leave their seats as we pump the air and shake our booties to At The Indie Disco, as well as the hits Something For The Weekend, Becoming More Like Alfie, and of course National Express. My Lovely Horse, the favourite from Father Ted, is regrettably a non-runner.

An encore is expected, nay demanded, by the loyal multitude of fans, and Hannon and the band duly oblige with a final three songs – Absent Friends, Songs of Love and Tonight We Fly. I may not be leaving as a fully converted Divine Comedian, and I still don't know what was in that bloody wood shed, but at least I will have something to talk about next time I find myself in a queue for a Divine Comedy gig.
Live Review
Open
The Divine Comedy