The Revelation Brothers
OPEN
14/10/19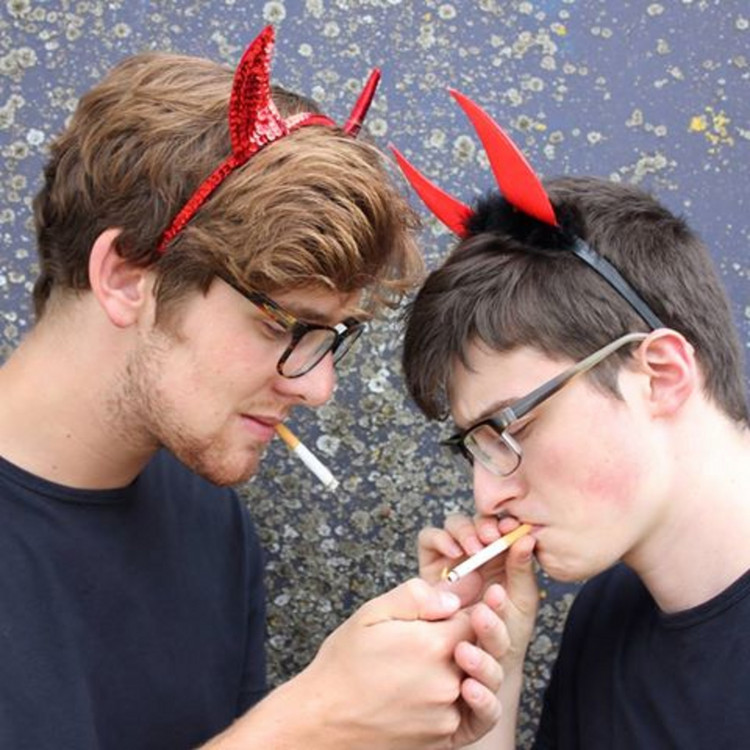 It appears that autumn has, almost perversely, announced its arrival with one of the most summery evenings to hit Norwich for quite some time and, as I arrive in the city crowds are thronging on the outdoor terrace of the Bell Hotel in Castle Meadow, drinking in the start of the weekend with early evening al fresco bonhomie.
It is tempting to stop for a quick post-equinoctial cocktail, but I am instead headed for the subterranean darkness of Open's club room. Tonight is launch night for The Revelation Brothers' debut album, Angrycultural Areas, with a supporting line-up that includes no less than four local acts and a surprisingly un-gigly kick-off time of 7:20pm.
It is a line-up that brings together a real spectrum of Norfolk talent, a testament to Jack and Jake's own musical tastes, and also their refusal to be blinkered when exploring their own songwriting pathways.
First on stage is one of my favourite 'discoveries' of the last twelve months, the intriguingly named The howtocuredyslexia Band, which in reality is not a band so much as singer songwriter David Miller and his acoustic guitar. Tonight he is as spellbinding as ever as he delivers his curiously surreal songs, sometimes peppered with social comment, sometimes simply conjured out of a Coleridge-like imagination. Check out his EP collection Teeth.
I cannot believe that this is the first time that I have caught Hot Raisin live, perhaps in part because a friend and fellow-reviewer seems to have seen them play somewhere almost each and every week during the summer, and consistently praises their performances. Tonight they are a three-piece, core members Tory Cobb and Mary Podd being joined on acoustic guitar by Luke Fox, and their set includes all four songs from their latest EP Whiskey Ginger, culminating in the title track. And my friend is correct. The interplay of acoustic and electric guitar, and Tory's distinctive vocals is a real delight.
Falling From Trees are a band with whom I am more familiar, They are fronted by vocalist Rebecca White, whose amazing voice always adds a sucker punch of soulful and smoking blues to their traditional folk influences. Brothers Adam and Leo provide vocal harmonies whilst Joey Scampion contributes some punchy bass playing and drummer Sam Ball effortlessly keeps everything tight. As a five piece, they sound better than ever.
Long Stratton rock trio Perfect Mistakes kick their set off with Bulb, opening track from their latest EP Rust, and probably their best song yet. Ben Rodwell on drums and Marcus Krumins share vocal duties whilst Ollie Randall supplies bass. This is riff-heavy rock with some great choruses, and they have come on leaps and bounds since I last saw them live. So many different influences detected, although I would probably save the disappointingly average cover of Twist and Shout as an encore for headline sets. Thrown rather randomly into the mix it tends to detract from their original material, however much fun it may be to play.
So, after four very different support acts, The Revelation Brothers take the stage for what is, after all, the whole purpose of the evening – the album launch of Angrycultural Areas. The build-up has created quite the party vibe and Jack and Jake are clearly, and quite rightly, in celebratory mood at Open in the club room packed full of friends and family as they launch into Everybody Knows, opening song from the Help Me EP.
Nicotine and Teenage Dreams is the first of several tracks from the new album, but in typical Revelation Brothers style it is not long before new material is being debuted. In spite of a brief hiaitus during the summer to concentrate on taking their A-levels this duo are still proving incredibly prolific when it comes to songwriting. Their material is an unlikely and unusual mix of grunge and punk lyricism – lots of references to smoking, alcohol, and teenage frustration but expressed from their adolescent viewpoint of a Norfolk market-town rather than the inner city or the industrial heartlands. These thoughts are then melded to Jake's bluegrass banjo playing and Jack's acoustic guitar. The resultant sound is most certainly a new wave twist on a traditional sound – what they themselves refer to, perhaps slightly tongue in cheek, as grungegrass.
For the last three songs Jack and Jake invite Perfect Mistakes back on stage and the final quarter of an hour is a high-energy mash up of each others songs followed by an exuberant and hugely enjoyable cover of A-ha's Take On Me. This version should be recorded without delay. It could, and should, become the song that finally replaces Knowing Me Knowing You as Alan Partridge's theme tune on North Norfolk Digital.
All in all, a classic album launch with a talented supporting cast, and great to see Jack and Jake enjoying themselves so much on what was obviously such a special evening for the both of them.
Angrycultural Areas is available to download from The Revelation Brothers' Bandcamp page.