[UNIT]
05/09/16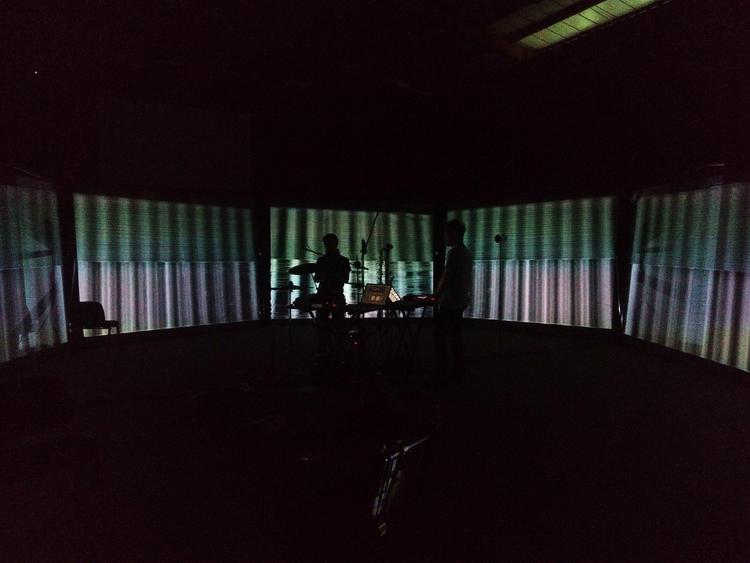 Put a contrabass, bass, alto, and normal clarinet, a pair of cymbals, a violin bow, seven screens in a circle, some crazy homemade electro-gadgets, avant-garde wizard, Bill Vine, musician Ant Bailey, and visual artist Marcus Williamson in an abandoned shoe factory on St Mary's Plain. Shut the doors. Turn out the lights. And see what happens.
It's a bit like a Tardis. The audience stand or sit around a central point, where the trio perform. Behind us is a live-animated circular wall of screens, constantly changing and moving along with the music's flow with monochrome lines and fuzz. We are intensely INSIDE the music as a result, and boy is it an incredible ride. It's jittery, unnerving and edgy, full of tension both musically and visually, and the sense that none of us really know what to expect or how to behave is palpably exciting and frightening. There's static in the air, and I start to get confused between the sounds wafting around from the cleverly placed speakers in between the screens behind me and the music that's happening in front of me. Sometimes they marry up, sometimes I hear a portion of it behind me, sometimes it's completely different. Feeling free to move about at will gives a whole other dimension to this sensation as well – it feels as though I'm in a vortex of feels. There's the ringing discordance as a cymbal is scraped with a bow, some gentle, ambient vibes, and the witchcraft of watching a man wave his hand in front of a laptop screen and it become art. Three quarters of the way through the music gets massive - really fast and gloopy and whippy with a massive bass sound. The visuals ramp up into a kind of madness. It feels like I'm in a hurricane but I couldn't love it more. The music accelerates to a cacophony of wind blasts and even more of an aural assault before everything fades to black after this 40 minute performance.
A magical, complex, experience indeed, and just what we are coming to expect from Norwich collective [UNIT]. Big up the boys in black.
You can catch further performances from [UNIT] at The Shoe Factory on 2nd and 3rd September at 2pm, 7pm and 9pm. Tickets are just a fiver from Norwich Arts Centre or on the door.
Review
[unit]
The Shoe Factory