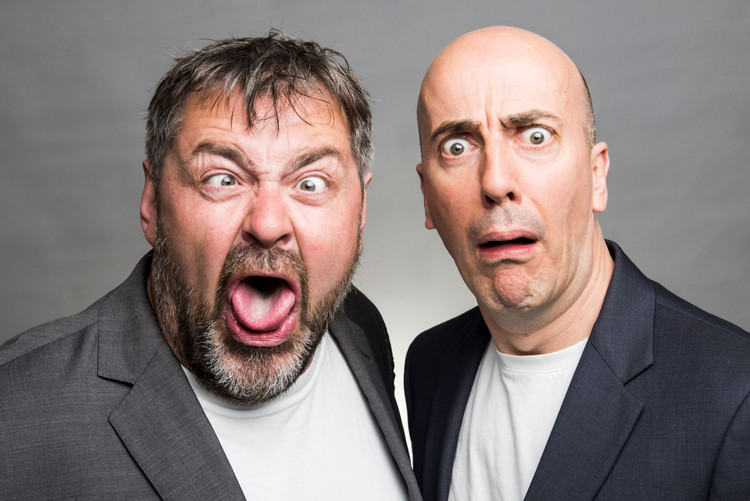 Holt? Who goes There?
Sunday, August 7th 2022
If you have never seen The Nimmo Twins, then you better be bloody quick. Their run of shows at Norwich Theatre Playhouse sold out yonks ago. If you are quick, you might be lucky as they are doing a one-night-only show at Norwich Theatre Royal on August 23rd. If not, just "keep on troshin".
Read full Article >
---
---
Jonathan Pie: Fake News (Corona Remix)
Thursday, November 4th 2021
Mark Steel
Sunday, August 8th 2021
Police Cops - Badass
Friday, July 30th 2021
Russell Kane
Monday, July 12th 2021
Geoff Norcott
Thursday, February 6th 2020
John Shuttleworth's Back
Tuesday, February 4th 2020
Graham Fellows discusses his new show, John Shuttleworth's Back
Sunday, December 15th 2019
"Sometimes I have to check myself and think whether John would really say something. I worry that John might be a Daily Mail reader who supports Brexit – I don't think he is, but sometimes it's tricky to come down one side or the other..."
My Kind of Michael
Thursday, September 19th 2019
an evening of knockabout fun with a charming host that was warm and inclusive, but how frustrating that, with a just a little more work and attention to detail, we could have had so much more.
Edinburgh Fringe Some Acts coming to Norwich
Saturday, August 24th 2019
Rowan from The Playhouse went to spot for talent, see what she picked to come to The Playhouse
Al Murray - Pub Landlord
Monday, June 17th 2019
Al Murray - Pub Landlord
Monday, June 17th 2019
LOL Comedy - Ladies Night
Friday, March 8th 2019
LOL at the Rose Tavern- Ladies Night!
Lost Voice Guy
Wednesday, February 6th 2019
His opening salvo is a warning that if I don't laugh at the disabled guy I will go to hell
Rich Hall
Monday, November 5th 2018
Britain On Film: Black Britain
Saturday, October 13th 2018
Mark Watson: The Infinite Show
Tuesday, October 2nd 2018
Sara Pascoe
Saturday, August 4th 2018
Women Of The World Festival
Friday, May 4th 2018
Stewart Lee
Sunday, March 25th 2018
Andrew O'Neill's History of Heavy Metal
Monday, February 12th 2018
Mark Thomas: Showtime From The Frontline
Friday, February 9th 2018
BUG Norwich 17
Monday, June 26th 2017
Abandoman
Thursday, June 22nd 2017
Monty Python's Spamalot
Friday, June 2nd 2017
Graeme of Thrones
Wednesday, May 24th 2017
Reginald D Hunter
Monday, May 15th 2017
Richard Herring - The Best
Monday, May 8th 2017
Sara Pascoe
Thursday, April 20th 2017
Bourgeois and Maurice
Friday, March 31st 2017
David O'Doherty
Tuesday, March 7th 2017
Josie Long
Sunday, February 19th 2017
Arthur Smith
Friday, February 17th 2017
Stewart Lee
Thursday, February 9th 2017
Comedy Bank II @ Open
Monday, June 27th 2016
Not so good.
Bridget Christie @ Norwich Playhouse
Thursday, May 5th 2016
Bridget Christie deserves to be more of a household name
Comedy Bank @ Open
Saturday, April 16th 2016
An absolute riot